HOME | UPDATES | JOIN | MEMBERS | LINKS
Welcome at WetlookCouples!
Where you can find real couples making love in the water! We update every week with a new set pictures and/or video.
You will find great sets of couples (male/female) in fully clothed wetlook. They are wearing formal wear, casual outfits, jeans, etc.
This makes WetlookCouples a unique site! If you like real couples making love while soaked, you will love this site!
We hope you enjoy your stay, we will post an update every week and if you have requests you can let us know!
If you are a couple living in Holland and also would like to have a great experience and nice pictures, write us!
This weeks update:
Movie of an unexpected shoot... while we were doing another couple, this mature couple passed by and stopped to watch.
They liked watching and asked if they could join in! But of course!
So they hurried home to grab some dry clothes and jumped in the now not so warm water :-)

Suzanne and Jurriaan are a wild, loving couple with a taste for drama :-)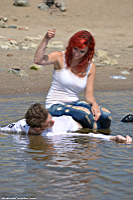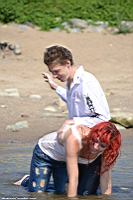 Movie of Jolanda & Robin, in jeans and shirt, the water makes them romantic!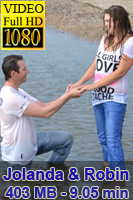 ---