HOME | UPDATES | JOIN | MEMBERS | LINKS
Welcome at WetlookCouples!
Where you can find real couples making love in the water! We update every week with a new set pictures and/or video.
You will find great sets of couples (male/female) in fully clothed wetlook. They are wearing formal wear, casual outfits, jeans, etc.
This makes WetlookCouples a unique site! If you like real couples making love while soaked, you will love this site!
We hope you enjoy your stay, we will post an update almost every week and if you have requests you can let us know!
If you are a couple living in Holland and also would like to have a great experience and nice pictures, write us!
This weeks update:
Martha and Mo are very much in love and no matter how cold the water, they enjoyed each other!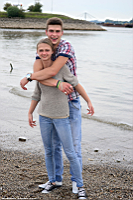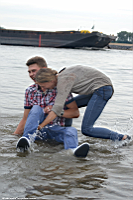 Superb movie of Eileen and Mike, they jump and play in the perfect clay and have fun going face-first all in!
He is wearing a baggy pants with guns-n-roses T-shirt under a jeans shirt, plus sneakers and socks he loses in the mud.
She came in a red denim pants under a black shirt, wearing brand new ES skater shoes that got stuck as well!
You can also check out the demo-clip at our youtube channel!


(also pay-per-download at www.wetlookstore.com)
Movie of young couple Laura and Martin first time outdoors getting wet. They pose tender and careful


(also pay-per-download at www.wetlookstore.com)
Movie of Gaby and Michel in their Barcelona soccer shirts. She carries him first, but they soon get soaking wet.

Movie of Kenny playing with Milou in nice outfit, posing romantic as well.

---